Gingerbread Class Flyer 2014 Click on link to see schedule and prices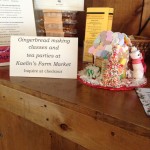 Gingerbread Making Classes!


  Fresh pines and Christmas trees to decorate your home!
Fresh Pine Wreath and centerpiece classes….call now to schedule! 
Kaelin Farm Market started in 1946 and is a family-owned local business located in Franklin Park, PA.  We currently farm 140 acres and harvest a variety of fruits and vegetables. We will update our current harvest under the "Seasonal Produce" category.

Check out our daily lunch menu under the "Country Kitchen" category. In addition to lunches, we offer fresh baked goods daily.
Kaelin Farm Market © 2013